Hello Harper Group Retailers!
This tutorial applies to you only if you have never shopped on another agency's Reach ecommerce site and are completely new to Brandwise Passport and Brandwise Reach (this will apply to most retailers!)
If you already have a Brandwise Passport account or have shopped on another Agency's Reach ecommerce site within the last 12 months, go here: https://shop.harpergroup.com/alreadyonbrandwise
Are you ready for a new and improved online shopping and ordering environment? Harper Group has chosen Brandwise Reach, the industry's preferred online shopping platform offering retailers a unique wholesale shopping experience:
Shop using the convenience of hotspotted catalogs from all of the Harper Group's brands you love. Simply access a brand catalog in Reach and click to add products into your shopping cart directly from the catalog!
All orders submitted through Reach are immediately reviewed by your Harper Group Territory Manager and available promotions are applied before your order is confirmed.
Choose your preferred ship date and stagger your order fullfillment.
Buy on existing terms or pay COD and save your credit card information in Reach for future purchases.
Shop using Harper Group's product gallery which contains a list of the top selling SKU's across all Harper Group brands.
Create Wish Lists of products and share them with yourself and/or forward it to your Harper Group Territory Manager who will provide recommendations and assist with merchandising suggestions.
Brandwise Passport is your gateway to access Harper Group's ecommerce shopping platform, called Brandwise Reach. Before you can gain access to Harper Group's online shopping platform, you will need to follow a few simple steps so you are properly set up.
Step 1: Access the Harper Group ecommerce page > shop.harpergroup.com/reach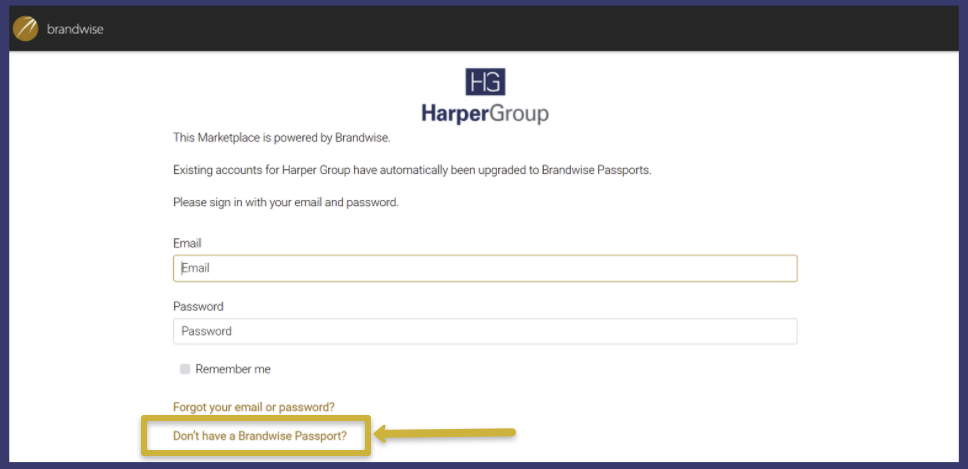 Step 2: Click on "Don't Have A Brandwise Passport?" This will direct you to create a personal Passport profile starting with your email address.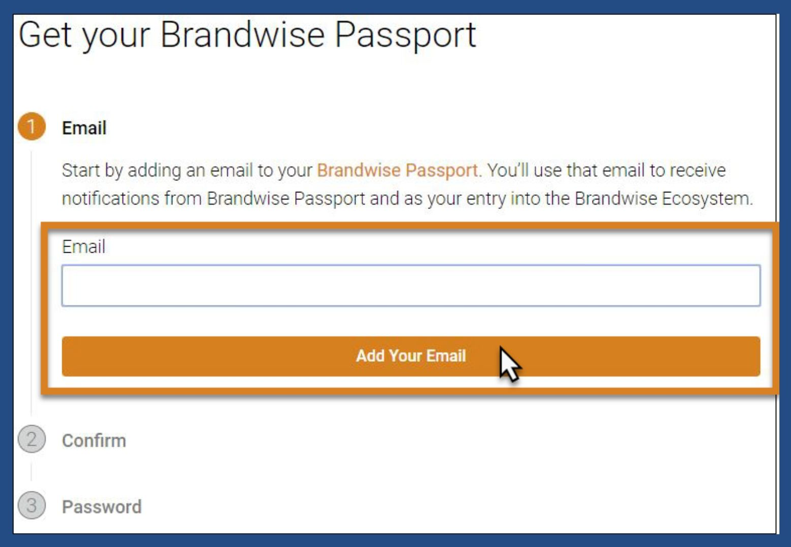 Step 3: Follow the directions by adding your email, then your name and phone number. You will then be required to confirm your email address.
Step 4: Confirm your email address by clicking on the "Confirm Email" button in the email you receive from Brandwise.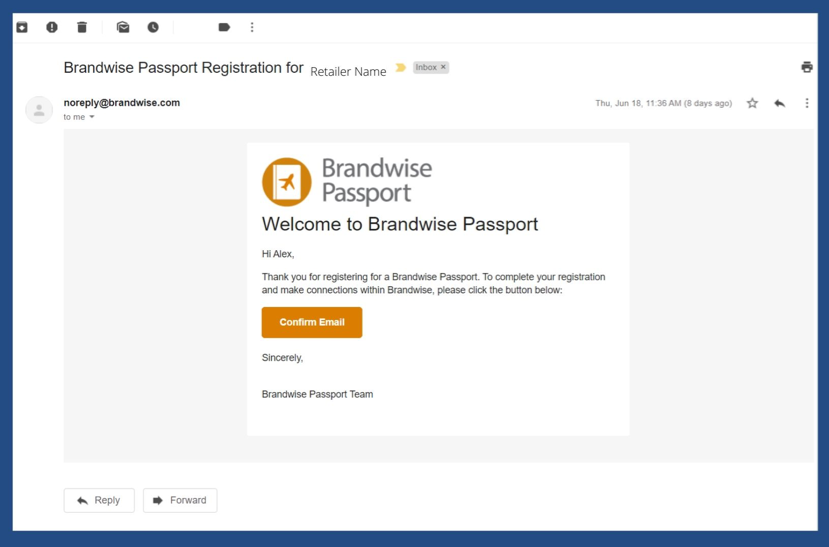 Step 5: You will then be redirected to the Brandwise Passport page to create a new password and complete the set up process.
Step 6: The next step is to connect your personal Passport account to your business. Click on "Add Business to Brandwise Passport" to create a new business connection. Choose "Retailer" as your business type on the next screen.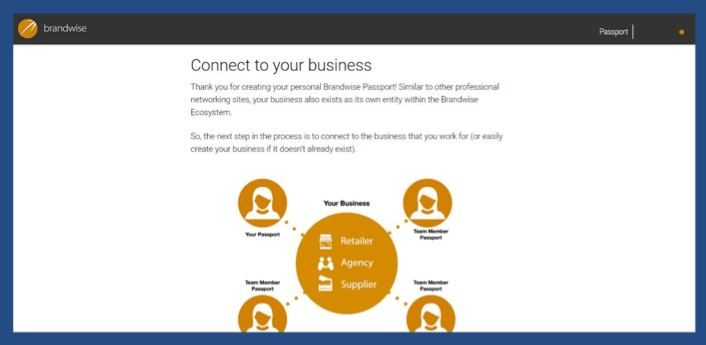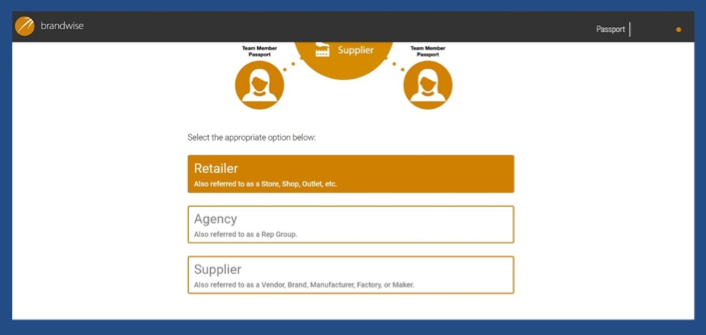 Step 7: Search the Brandwise database for your business by entering your Business Name and Country (if you have submitted an order through Brandwise in the last 18 months, your business will likely be found). If your business was found, you will then connect that business to your Passport profile and skip to Step 9.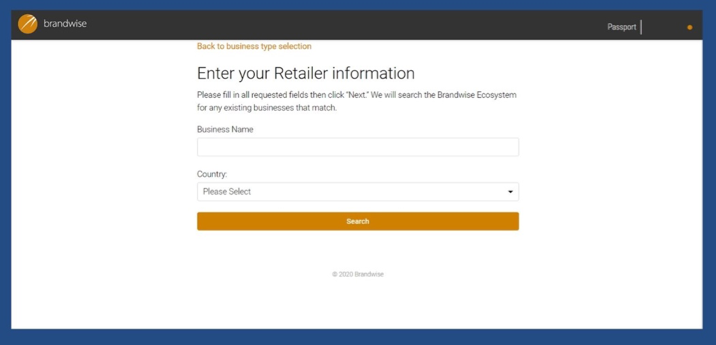 Step 8: If your business is new to Brandwise, you will need to create a new business to connect to your personal Passport account. Include the name of your store, billing address, phone number, website and core industry. Tax ID's are not required. You will be given the option of using your bill to address as your ship to address or to edit your ship to address later. Please remember you can always change your ship to address prior to submitting an order on Harper Group's Reach platform.
Choose "Create Retailer" to add your business to Passport. Once complete, you will see an acknowledgement that your business was created.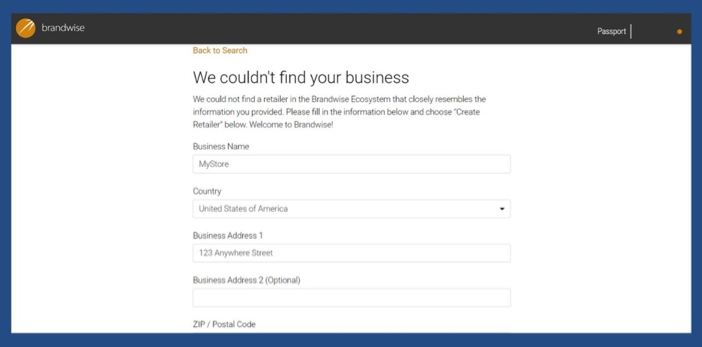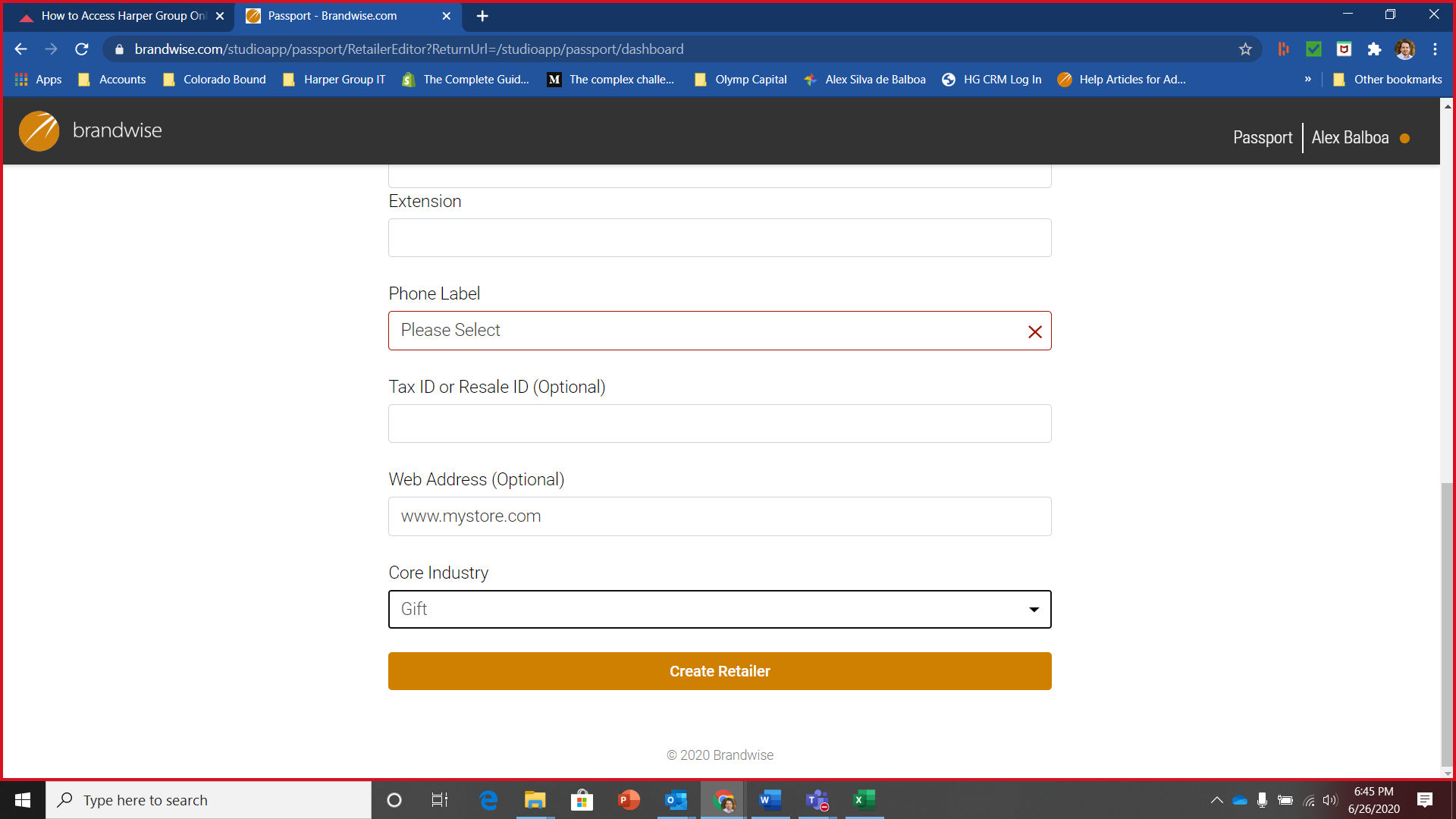 Step 9: Once your business is created, you will be directed to the screen below to submit a "Request to Shop" to the Harper Group. Press the "Send Request" button which will then direct you to an acknowledgement screen stating that your request has been submitted.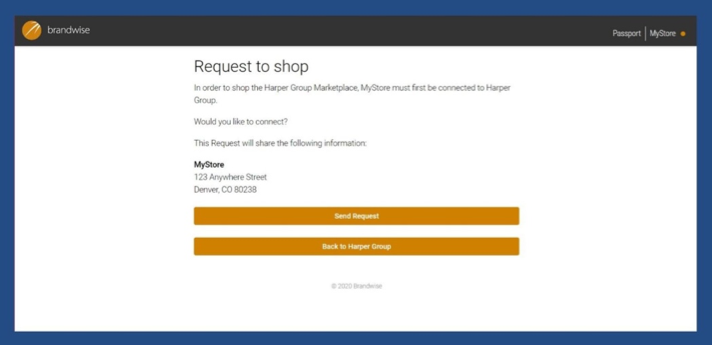 Step 10: The Harper Group customer support team will confirm your request which will then trigger a confirmation email notifiying you that you are "Ready to Shop" on Harper Group's Reach site.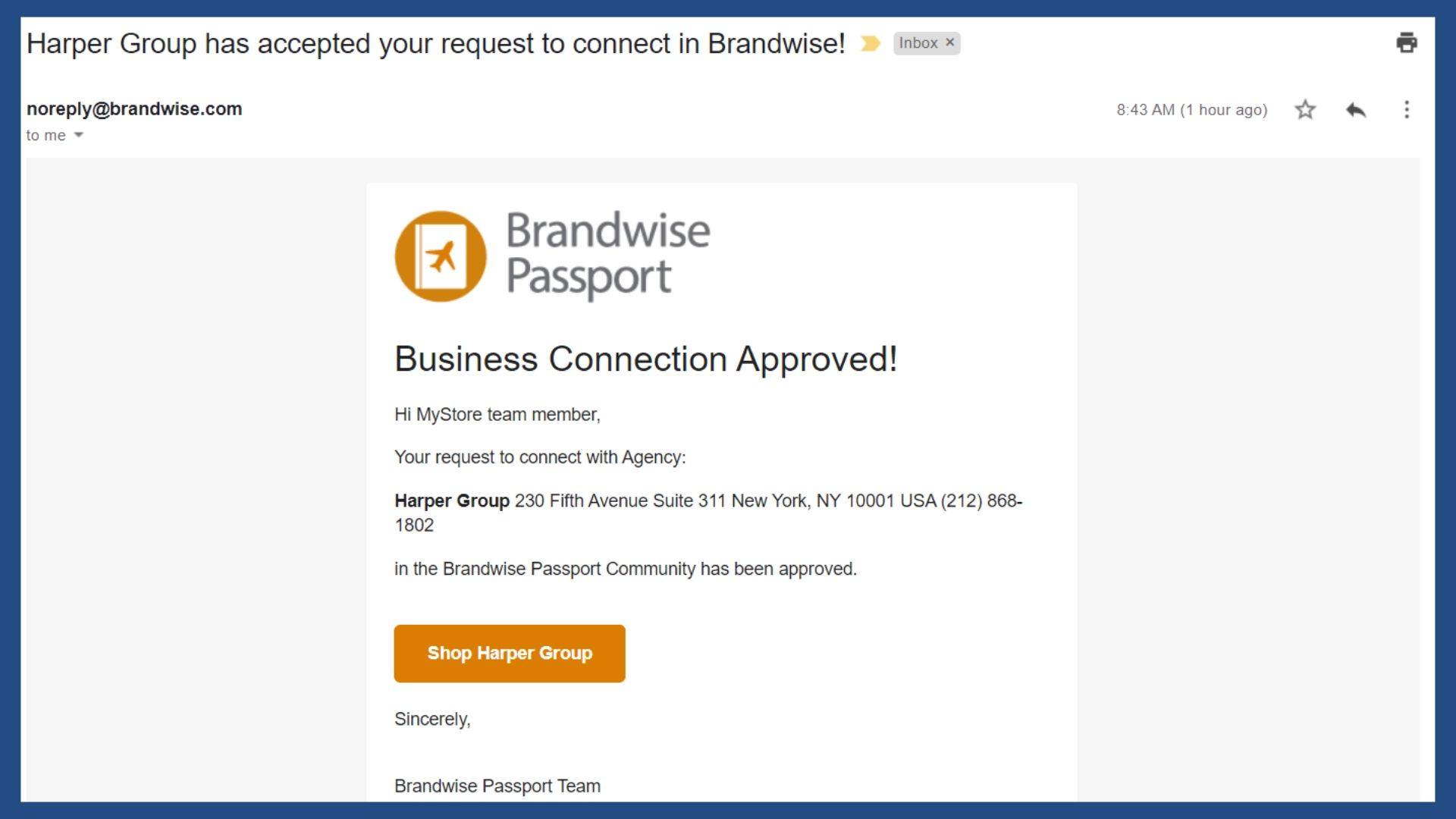 Step 11: Click on the "Ready to Shop" button in the email or log back into Harper Group's Reach ecommerce site and start shopping! You will see the landing page below after you have successfully logged in.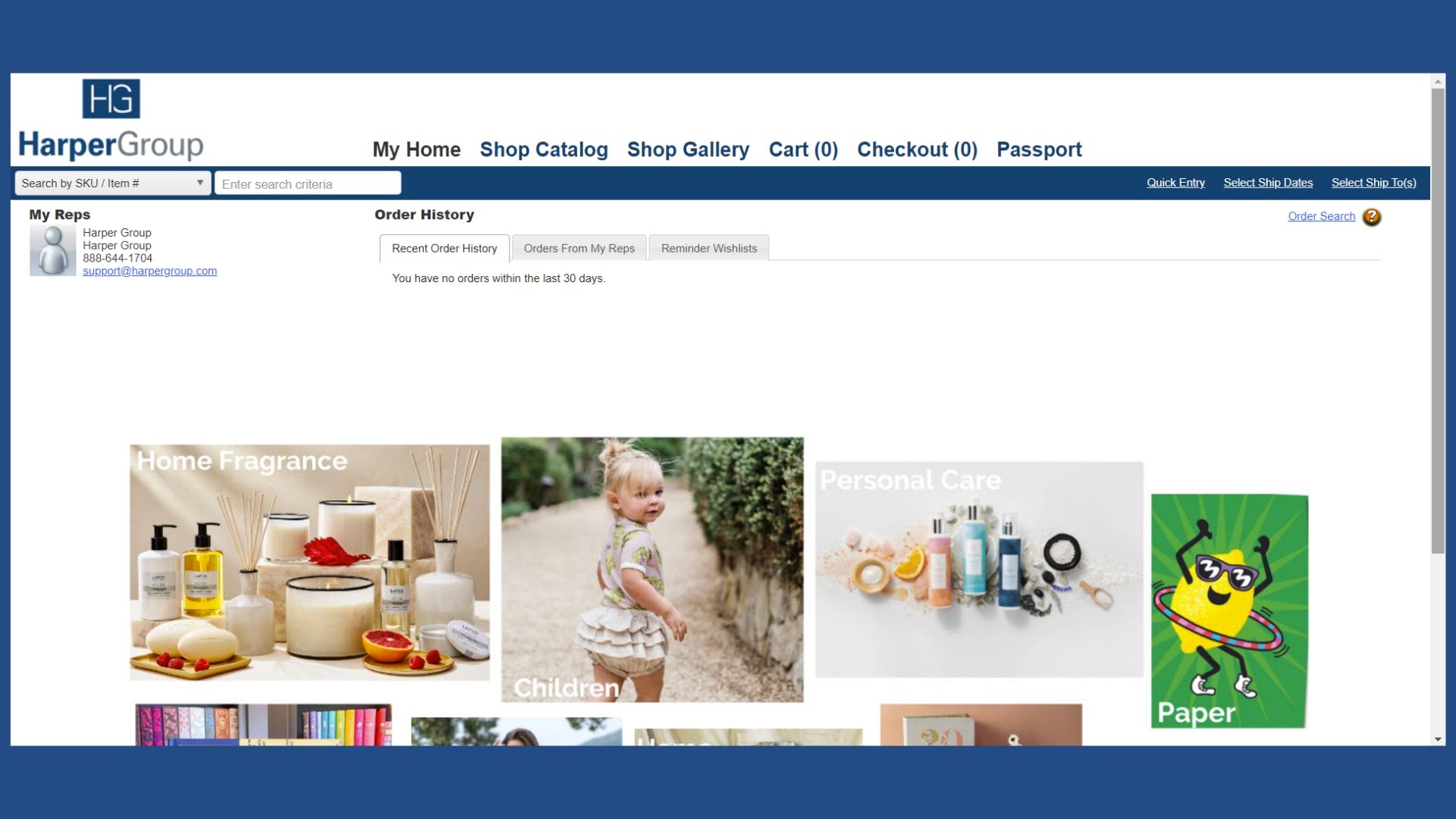 Congratulations! You now have access to Harper Group's online shopping platform and are ready to start shopping and submitting orders!
Questions or need help?
Email us: help@harpergroup.com
Call toll free: 888-644-1704